Service Department
Vehicle Service in Charlotte NC
At Formula One Imports, we specialize in Audi service, BMW service, Mercedes Benz service, Porsche service, Ferrari service, Lexus service, Maserati service, Lamborghini service, and Volkswagen service. All automotive repairs done are completed using state of the art diagnostic, programming, and repair equipment. We spare no expense when it comes to using the right tools to properly repair your car. We have factory trained technicians along with a very knowledgeable management staff with over 50 years of combined experience in the import repair, racing, and tuning industry.
FOR FASTEST RESPONSE PLEASE CALL OR TEXT OUR SERVICE MANAGER CHRIS WHITEMAN AT (980) 939-2787 TO SCHEDULE APPOINTMENT OR TO HAVE YOUR CAR PICKED UP AT YOUR HOME OR OFFICE
SERVICES:
Lube, Oil & Filter Change
Annual Service per Manufacturer recommendation
General Maintenance (Wipers, Headlights, Etc.)
Brakes ( Replacing, Upgrades, Diagnostic)
NC State Inspection ( including window tint measurement)
Muffler / Exhaust Repairs and Upgrades ( Dual Exhaust, Headers, Custom Exhaust)
Coolant Flush
Vehicle Check-up / Inspection
Supercharger and Fuel Injection Installation
Suspension Repair, Upgrade, Lift Kits, Lowering
Tire Balance / Rotation / Upgrades
Air / Cabin Filter Replacement
Much More!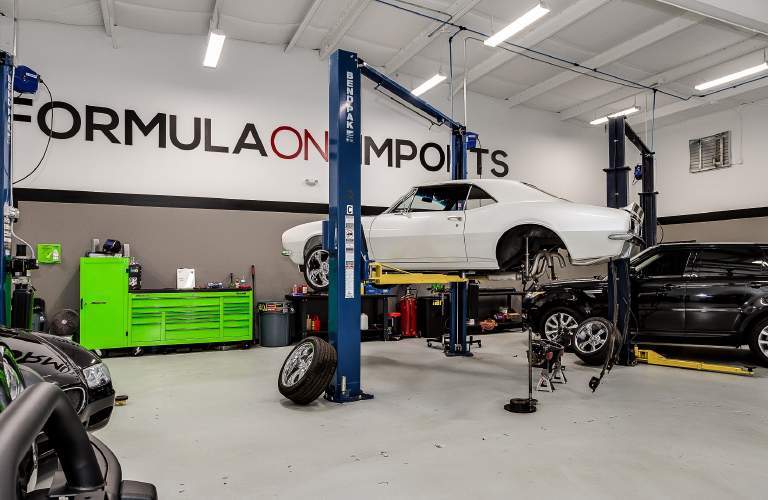 Schedule foreign car repair service in Charlotte NC
Formula One Imports experienced staff offers full auto service and repairs for all makes and models specializing in  Mercedes, Audi, Volkswagen, BMW, Bentley, Ferrari, Aston Martin, Lotus, Lexus, and Porsche motorcars. Our foreign car repair mechanics are located at our Charlotte dealerships. They are highly trained and experienced with the service and repair of these vehicles and we look forward to helping you with any needs your car may have.
We value each customer we have and work to make sure their car is fixed correctly and for a fair price. Bring your vehicle to us and we can service or repair it quickly and correctly, often for less than the dealership.
FOR FASTEST RESPONSE PLEASE CALL OR TEXT OUR SERVICE MANAGER CHRIS WHITEMAN AT (980) 939-2787 TO SCHEDULE APPOINTMENT OR TO HAVE YOUR CAR PICKED UP AT YOUR HOME OR OFFICE